Environment
It is our responsibility to find suitable and practical solutions together in response to climate change, and therefore we work on reducing our ecological footprint and support our clients with the energy transition at the same time.
VINCI sees the environment as a strategic priority for dealing with climate change. It is no surprise that VINCI Energies signed up to the environmental ambitions of the Group for three important focus area.
3 focus areas
reduce CO2 emissions, energy efficiency

sort and recover waste, materials

Biodiversity, water, air, soil
Reduce our ecological footprint
In the history of VINCI Energies and in our vision for the future, continuity is one of our most important spearheads. We take responsibility for the social context and the environment in which we work. We do the latter based on our Manifesto commitment 'Accelerate the environmental transition'. Our Manifesto expresses the essence of our Corporate Social Responsibility policy in eight commitments.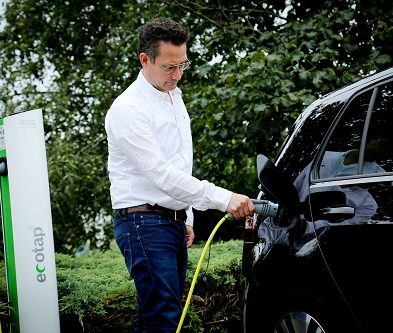 In the Netherlands we aim to reduce our greenhouse-gas emissions by 40% by 2030 compared to 2018 for scope 1 and 2 and by 20% for scope 3, with the ultimate aim to be CO2 neutral by 2050 in accordance with the Paris Climate Accord. We also support our clients in their search for better energy efficiency. We encourage our clients and suppliers to adopt our environment-friendly approach.
Our objective to reduce greenhouse-gas emissions is supported by our business units. They focus on reducing the footprint of their own operational activities with specific actions. For example, by encouraging our employees to commute by bicycle and making bicycles available for this purpose, by promoting the use of electric vehicles, by installing solar panels, and by separating waste on the sites. There is also a programme for all employees that teaches them how to drive safely and economically. VINCI Energies in the Netherlands has the CO2 Awareness Certificate.
Offer our clients innovative environmentally friendly solutions
In all our business units, we use our role as integrator to support and advise our clients with their energy-efficiency projects, including the audit, design, and maintenance of systems that consume less electricity. Our employees in the business units use their experience and expertise to design environmentally friendly solutions that suit the infrastructure and the buildings of their clients, enabling them to achieve their CO2-emission-reduction targets.
For example, Actemium provides energy-efficient solutions to industry, Axians works on a sustainable port in Rotterdam, and Omexom helped to build a substation for sustainable energy in Eemshaven.
Our aim is to be pragmatic and to opt for the most effective solutions – with an eye for the latest technologies – that are best suited to our clients' context. We do the same in the chain, by working on energy-efficient solutions for our clients together with partners and suppliers. In the Netherlands we use the CO2 Performance ladder to test where we are and where our actions points are for CO2-aware actions in our business operations.
Read about our other commitments